IGSD Primers & Background Notes
A Primer on Cutting Methane: The Best Strategy for Slowing Warming in the Decade to 2030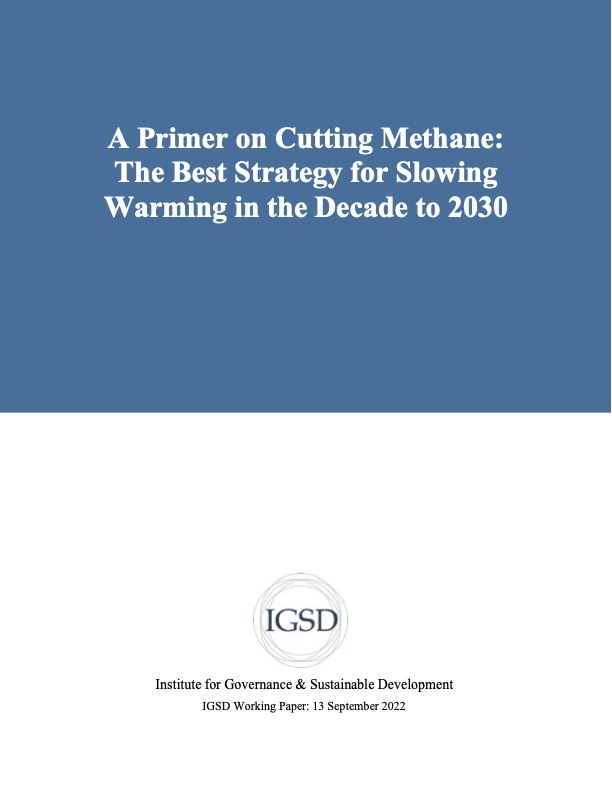 Feb. 2023
Summary
The IGSD Primer on Cutting Methane provides decision-makers with clarity on the science of methane mitigation and why action is urgently needed; current and emerging mitigation opportunities by sector; national, regional, and international efforts that can inform emergency global action on methane; and financing initiatives to secure support for fast methane reduction. This Methane Primer provides the scientific and policy rationale for decision-makers to achieve the "strong, rapid, and sustained" cuts to methane emissions necessary to slow global warming in the near term and limit the risk of triggering tipping points. The Methane Primer also supports the need for research and development of technologies to remove methane from the atmosphere at scale.
Background Note: The Need for Fast Near-Term Climate Mitigation to Slow Feedbacks and Tipping Points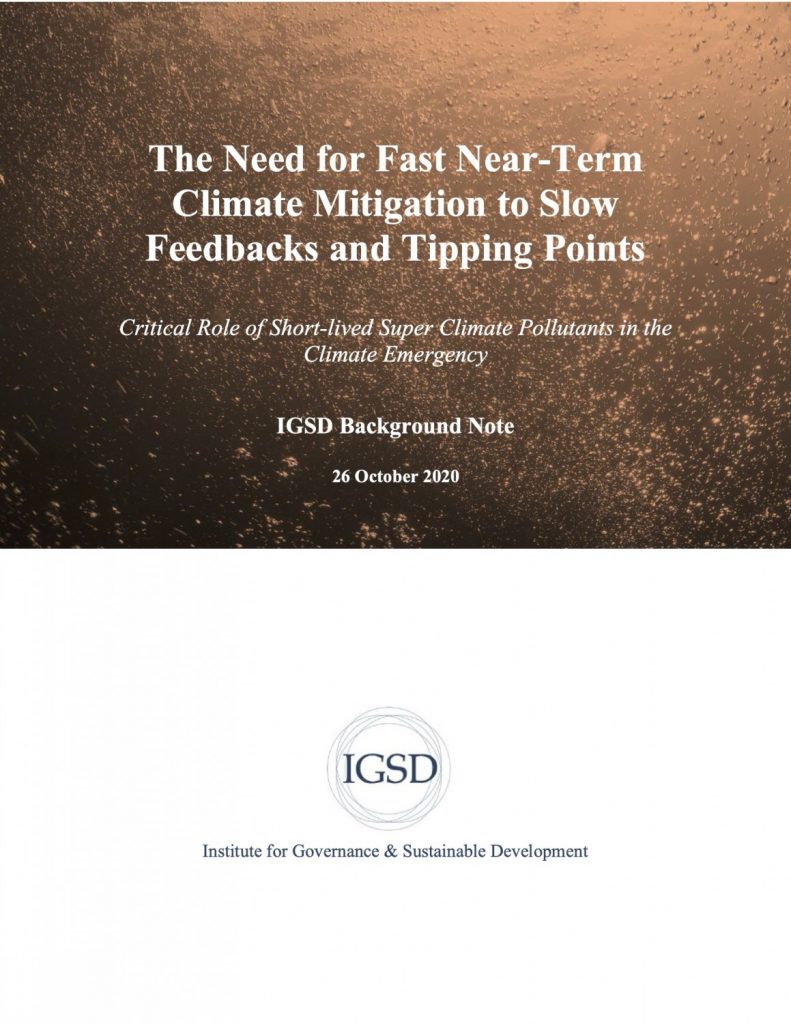 June 2023
Summary
This IGSD Background Note summarizes the science supporting the need for fast climate mitigation to slow warming in the near term (2022–2041). It also describes the importance of cutting short-lived climate pollutants and protecting sinks in order to slow self-reinforcing feedbacks and avoid tipping points. It explains why winning a fast mitigation sprint to 2030 is critical for addressing the climate emergency and how the sprint complements the marathon to decarbonize the economy and achieve net-zero emissions.
Background Note: Methane Removal
Aug. 2022
Summary
Learning how to remove methane from the atmosphere would complement strategies to mitigate methane emissions from anthropogenic sources. Methane removal technologies would be especially important because around 40% of atmospheric methane originates from natural sources, and because some anthropogenic emissions are difficult to reduce. Natural methane emissions come primarily from wetlands, but also, increasingly, from thawing permafrost, and there is a risk of high-impact emissions from undersea methane hydrates. Although these emissions come from natural sources, they are enhanced by global warming, and as warming accelerates these emissions will likely continue to grow. This IGSD Background Note explores the different methane removal pathways available to date.
Background Note: Debt-for-Climate Swaps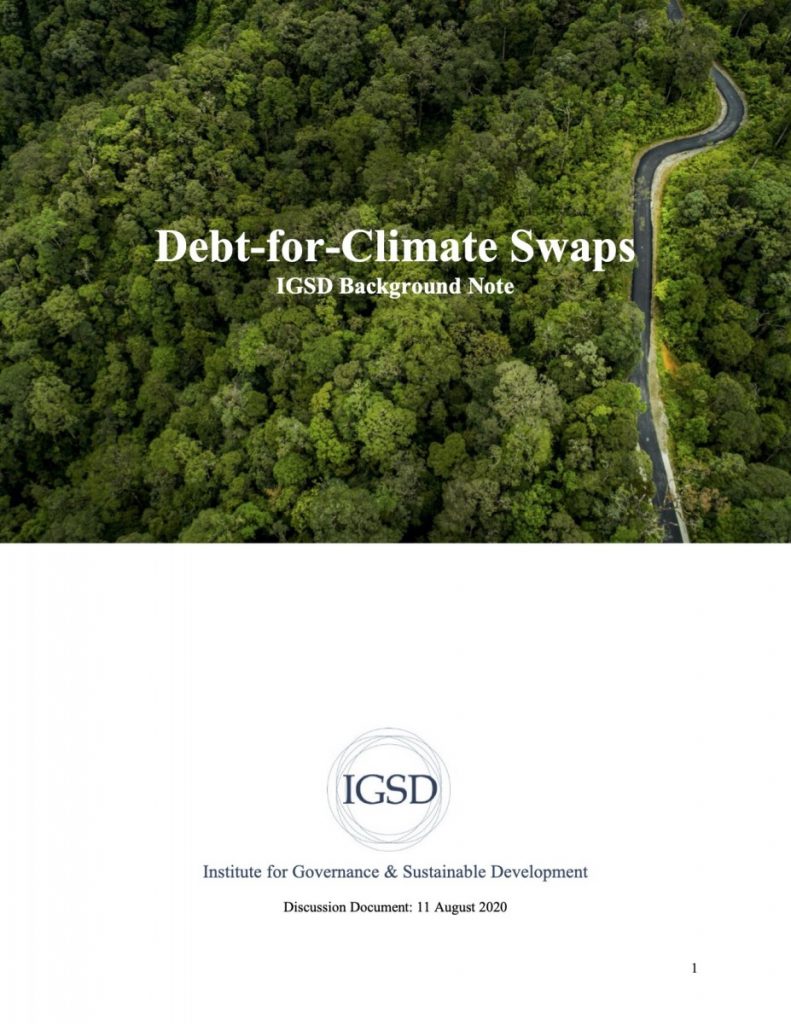 Oct. 2020
Summary
Much of the world is awash in unsustainable public and private debt, made significantly worse by the COVID-19 crisis. Efforts to relieve the debt crisis provide opportunities to advance climate protection, health, and economic goals together, specifically through debt-for-climate swaps. Nearly 30 countries have utilized debt-for-nature swaps since the 1980s to provide more than $1 billion USD to protect the environment. Extending debt-for-nature swaps to the broader concept of debt-for-climate swaps can help provide funding for climate mitigation and adaptation for developing countries, at a discount to creditor countries. In a debt-for-climate swap, instead of continuing to make external payments on outstanding loans in hard currency, a debtor country makes payments in local currency to finance fast climate mitigation and adaptation project on terms agreed upon between debtors and creditors. This IGSD Background Note identifies a series of strategies for developing a framework for debt-for-climate swaps as a way to implement, at scale, climate mitigation strategies consistent with a 1.5°C pathway.
Primer on Polar Warming and Implications for Global Climate Change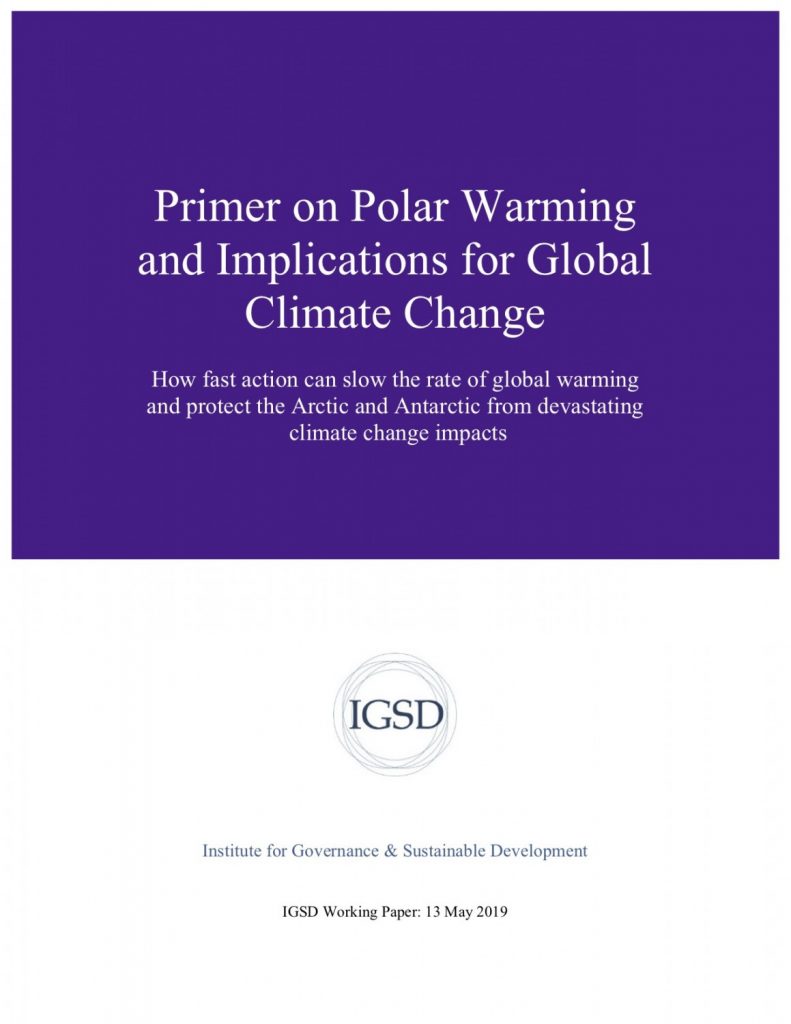 May 2019
Summary
The IGSD Primer on Polar Warming covers the present and future impacts of climate change on the Polar Regions and what solutions and resources are available to slow the progression of climate change. The Primer discusses observations of recent warming as well as tipping elements and impending tipping points particular to the Polar Regions before a thorough discussion of the present observations and future projections for Arctic sea ice, permafrost, and the ice sheets of Greenland and Antarctica. The Primer also relates potential solutions to combat climate change, especially in the crucial near-term given the proximity to some tipping points. Furthermore, the Primer includes discussion of existing laws and policies as well as organizations and collectives working to protect the vulnerable Polar Regions.
Primer on Hydrofluorocarbons (HFCs)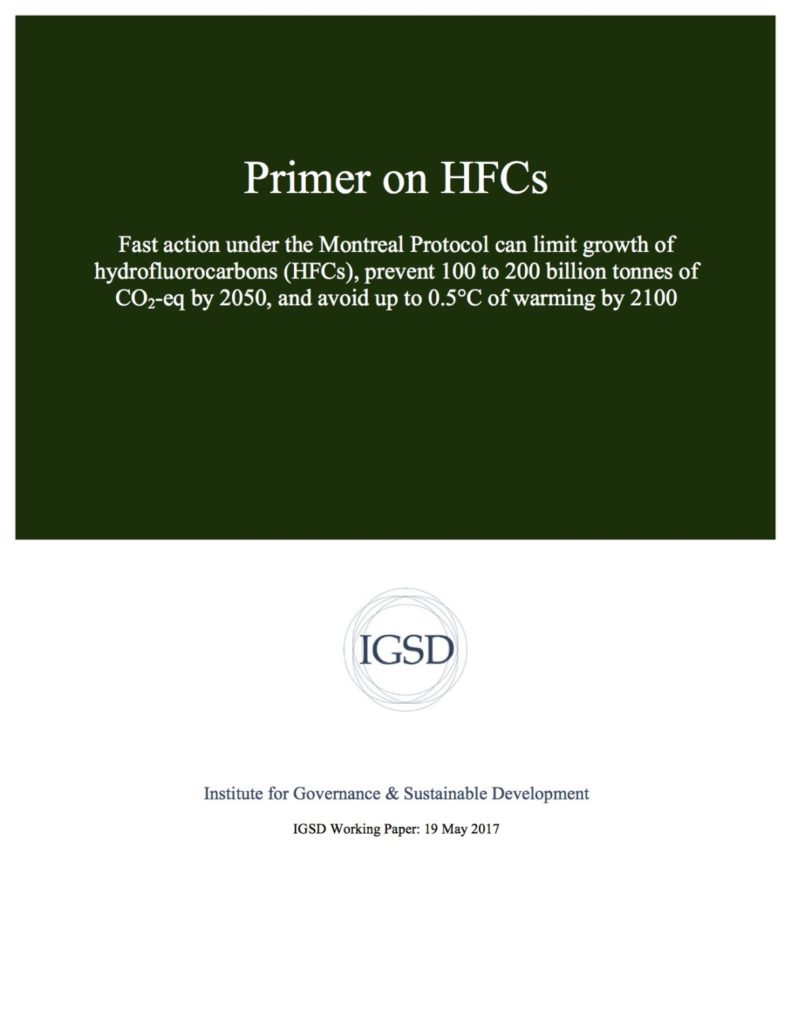 Jan. 2018
Summary
With the passage of the Kigali Amendment to phasedown HFCs in October 2016, the HFC Primer now serves as a record of this nearly decade-long process and details the actions of states, industry, and international community as they worked to create and adopt the Kigali Amendment.
Primer on Energy Efficiency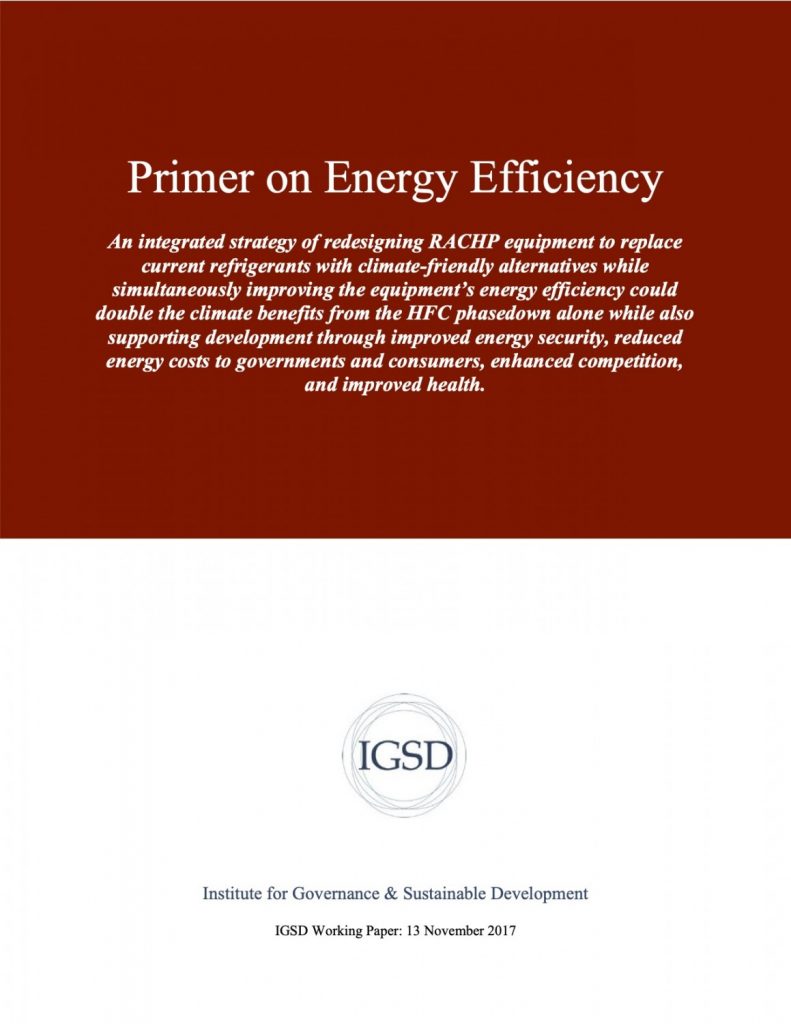 Nov. 2017
Summary
The IGSD Primer on Energy Efficiency details the benefits of improving the energy efficiency of cooling technologies as complementary and integral to effectively fulfilling the commitments and objectives of the 2016 Kigali Amendment of the Montreal Protocol. This Primer defines efficiency metrics; describes policies, tools, and programs that effectively move markets towards more efficient equipment; and provides examples that can be replicated globally. Furthermore, this Primer recommends strategies to ensure efficiency is at the core of the refrigerant transition. The audience for this Primer includes: government officials implementing the Kigali Amendment, as well as those responsible for national energy efficiency plans and actions, non-governmental organizations (NGOs) seeking to maximize environmental and consumer benefits, and companies developing and deploying new cooling solutions.
U.S. Climate Action Plan Supplement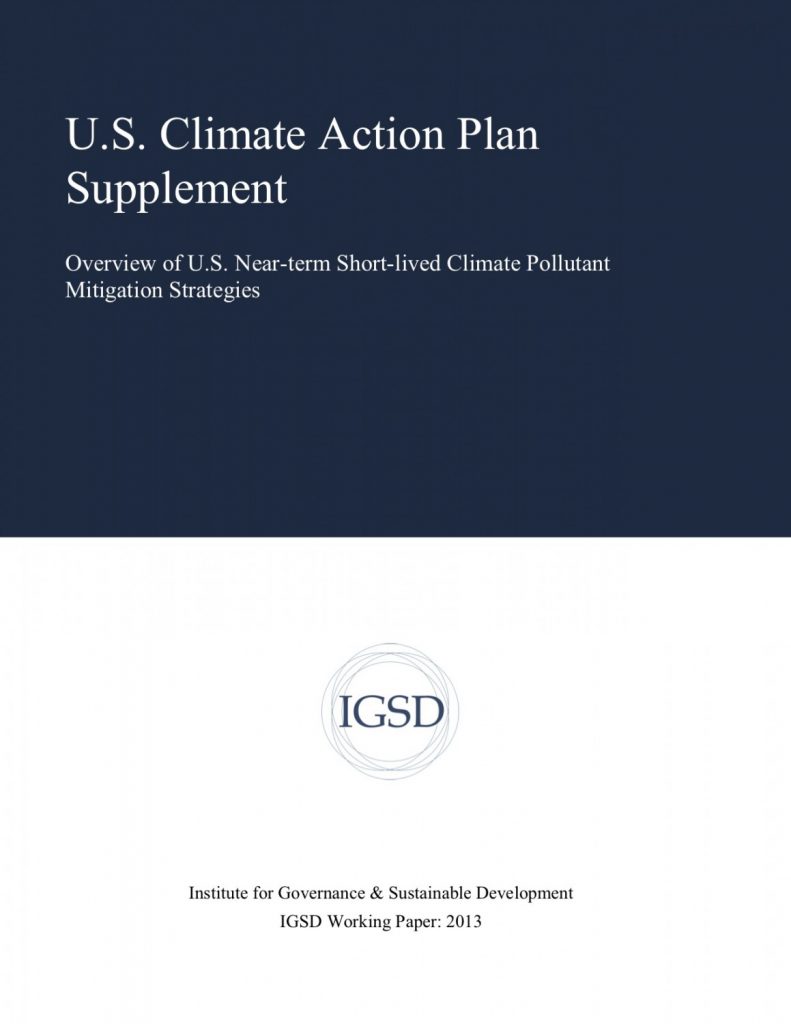 Jan. 2014
Summary
President Obama recognized the importance of addressing SLCPs in his Climate Action Plan, announced on June 25, 2013. In addition to the measures outlined in the President's plan, the U.S. has a number of other opportunities domestically to achieve rapid, low-cost reductions in SLCPs using a combination of Executive Orders and other existing authorities, as well as procurement policy, voluntary industry agreements, public-private partnerships, and other strategies described here.
Primer on Short-Lived Climate Pollutants (SLCPs)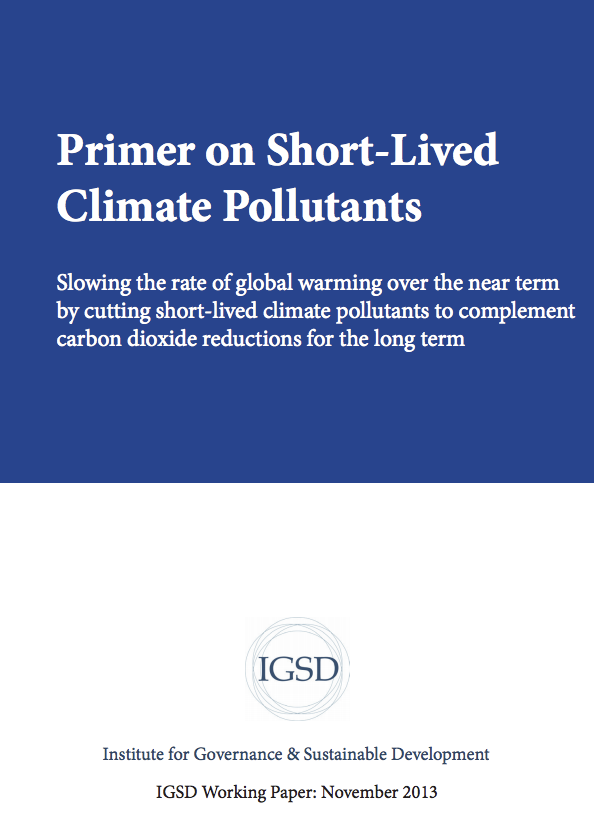 Nov. 2013
Summary
Slowing the rate of global warming over the near term by cutting short-lived climate pollutants to complement carbon dioxide reductions for the long term.