The Marrakech Global Partnership on Renewable Energy and Energy Efficiency launched in COP 22
---
November 18, 2016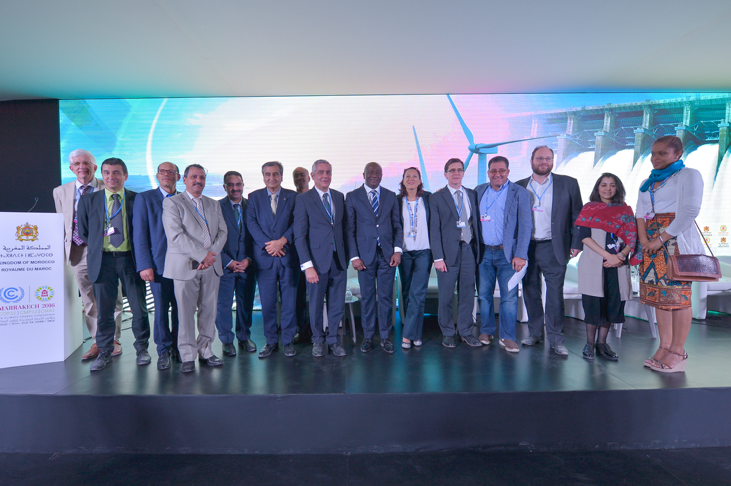 At the end of the second week of climate negotiations at COP 22, where one of the major outcomes will focus on reducing gaps between developed and developing countries in term of energy access, capacity building and technology transfer, a new international collaborative initiative was launched at the Moroccan Pavilion to support collaboration and exchange between international and regional climate change initiatives. Initiated in Bonn by Least Developed Countries (LDCs), Small Island Developing States (SIDS), African Group (AGN), Morocco, Sweden, confirmed in New York during the climate week in September 2016 and encouraged by other initiatives such as SE4ALL .
The Marrakech Global Partnership on Renewable Energy and Energy Efficiency (MGPREEE) is a forum to consolidate outcomes in the energy sector from COP21 and COP22 and accelerate the transformation of the global energy system by helping initiatives on renewable energy and energy efficiency to:
Share information and best practices
Identify key policy drivers
Build synergies to improve effectiveness
Build capacity to operate efficiently
Avoid duplication of efforts
Enhance transparency and communications
Identify gaps and enhancing institutional capacity
Enable the scaling up of finance and actions
Set the stage for implementation of NDCs in the energy sector
The MGPREEE, as an umbrella of initiatives IEEI, AREI, LDC_REEEI, SIDS_IRIE, CAIS, Other initiatives, will assist:
African countries by advancing their proposal for a global renewable energy partnership and continental initiative
SIDS by scaling up support for the Lighthouse Initiative and other initiatives
LDCs by extending support to non-African LDCs while building on the lessons learned by African LDCs from AREI
Other developing countries in Asia and Latin America as part of their pre- and post-2020 actions
All countries, initiatives and stakeholders to explore synergies and provide a forum for ongoing dialogue and discussion
The IEEI, as a pillar of MGPREEE, aims to promote rapid global diffusion of energy efficiency and small-scale renewable energy best practices as a way to support efforts to achieve the ambitious targets of the Paris Agreement. Improving energy efficiency can not only foster better consumption and help meet higher demand for energy without the need to substantially increase supply, it also leads to reducing GHG emissions and could represent more than the half way to reach the objective of 1,5 to 2°C.
The content of this post came from a COP22 announcement