Learn from the Master: Environmental Law and Diplomacy
---
June 8, 2022
Selected Writings of Donald W. Kaniaru (1970-2021)
8 June 2022 – In his latest book, career lawyer, diplomat, and negotiator Donald Kaniaru released a collection of published and unpublished papers from his career spanning works from the 1970s to the 2020s. The book, Environmental Law and Diplomacy, offers unique insights into the world's collective struggle to slow environmental destruction while also pursuing equitable and sustainable development for all.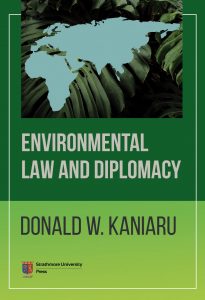 Environmental Law and Diplomacy is also the story of the United Nations Environment Programme (UNEP), the story of international environmental law, and the story of Donald Kaniaru's home, Kenya, in the era of decolonization.
In his papers, the author describes the birth of UNEP, including Kenya's involvement in the 1972 UN Conference on the Human Environment, where he helped forge an inclusive alliance to support Nairobi's selection to host the new UN agency.
It reflects on the past and the potential future of the "brilliantly vague" concept of sustainable development, weighs the guiding principles of environmental law and discusses the opportunities and challenges posed by environmental tribunals, based in part on his experience as Chairman of Kenya's Environment Tribunal. And among others, the book also touches on how seeds planted in that summer of 1972 sprouted into the Montreal Protocol on Substances that Deplete the Ozone Layer, a treaty that has emerged as UNEP's – and the world's – most successful environmental treaty.
"Over a career spanning nearly five decades, Donald Kaniaru has earned his reputation as not just as an extraordinary lawyer and a diplomat, but also as a mentor who has left a mark on all those who have had the pleasure of working with him," said Durwood Zaelke, author of the book's Foreword. "Donald's legacy and work have had a tremendous impact across the modern environmental movement. There is still much to be done to avert the worst impacts of climate change and other challenges. This requires fast action under UNEP's leadership, following in the footsteps of trailblazers like Donald, to ensure that we win both the sprint to 2030 and the marathon to 2050 to keep warming from breaching the 1.5° Celsius safety barrier."
Environmental Law and Diplomacy is Donald Kaniaru's first book. Previously he authored several articles and book chapters, co-edited with Durwood Zaelke and Eva Kružíková the two-volume seminal book 'Making law work- environmental compliance and sustainable development (2005), and edited The Montreal Protocol – Celebrating 20 Years of Environmental Progress – Ozone Layer And Climate Protection (2007). Mr. Kaniaru has received various awards and recognitions for his contributions to the development and advancement in the field of international environmental law, including the Elizabeth Haub Prize for International Law (2009) and the CIEL International Environmental Law Award (2010).