International Institute of Refrigeration Awards Gustav Lorentzen Medal to Dr. Yunho Hwang
---
August 24, 2023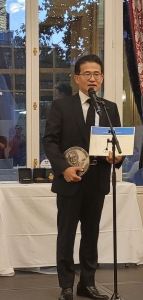 24 August 2023 — Dr. Yunho Hwang was awarded the 2023 Gustav Lorentzen Medal by the International Institute of Refrigeration (IIR) for outstanding and original achievements in academic or industrial research, innovation, and development of climate-friendly cooling technology.
Dr. Hwang, a longtime collaborator and partner of IGSD, is a Research Professor and Co-Director of the Center for Environmental Energy Engineering (CEED) at the University of Maryland. He works to make super-efficient cooling equipment with low global warming potential (GWP) refrigerants globally available at affordable cost.
IIR established the Gustav Lorentzen Prize in 1997 to honor the memory of Norwegian Professor Gustav Lorentzen (1915-1995), who revived interest in "natural refrigerants" such as carbon dioxide (CO2), hydrocarbons, and ammonia. Most notably Dr. Lorentzen rediscovered how CO2 could be an energy-efficient refrigerant in his modern thermodynamic transcritical cycle. This breakthrough inspired a new generation of engineers who work to make natural refrigerants, safe, energy-efficient, and sustainable.
Professor Hwang's work with IGSD includes the development of Enhanced and Localize Life Cycle Climate Performance (EL-LCCP) metrics that take into account climate-forcing refrigerants and energy sources as well as energy emissions embodied in materials and inherent in manufacturing, transporting, installing, servicing, and removing form service and recycling. No other metric considers factors such as urban heat islands, stacking and clustering of outdoor units, and carbon intensity of electricity delivered to the point of air conditioner use.
Most recently Professor Hwang was a member of the IGSD team proving that inverter room air conditioners (RACs) using R-32 refrigerant can achieve 70% carbon savings compared to older RACs typically sold in Africa that are inefficient when purchased and improperly installed and serviced for energy efficiency.